How to Use the Bedspread Sleep System
The Bedspread Sleep System's comforters are constructed with 100% non-allergenic polyester insulation. The summer comforter features half ounce insulation and the winter comforter features one ounce insulation. So if you find yourself in a cold climate you don't need to pull out any winter blankets. Simply flip your Bedspread Sleep System over so the winter side is on top. The winter side of the Bedspread Sleep System will be a solid color fabric that coordinates with the designer fabric on the summer side. Those living in a tropical climate may also wish to add a Tropical comforter. The Tropical comforter has no insulation and is used by simply unzipping and removing the summer comforter and zipping in the tropical comforter in its place.

Sheets for the Bedspread Sleep System
The price of your Bedspread Sleep System includes a set of 200 thread count 60/40 cotton/polyester ivory sheets and pillowcases. For the ultimate in cool comfort you may want to upgrade to one of our 100% cotton sheets. Extra sheet sets are also available.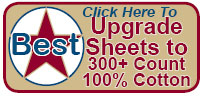 Extras for the Bedspread Sleep System
Complete the look of your bedding ensemble with matching Pillow Shams which fit standard size pillows.

Easy Care, Machine Washable
Comforters and sheets are very easy care, completely machine washable. Unzipped, the Bedspread Sleep System will fit easily into a front loading washing machine. Available for immediate delivery from stock, non stock orders allow 3 to 4 weeks for delivery.
A Frequent Concern About Our Bedspread Sleep System:
My bed is smaller than the sizes you list. What do I do?

Frequently boats and RVs are designed first then all accommodations are fitted into the space contained therein. This process usually results in odd size beds, not quite queens, sharp v-berths, super slim doubles etc. Our Bedspread Sleep System are designed to fit 2 adults comfortably!! You'll be comfortable with the Bedspread Sleep System designed to fit you even though your mattress is smaller. You can order extra sheets with no problems and you'll relieve yourself from the drudgery of making odd size beds.