Testimonials on Mats and Carpets


We ordered one of the 40oz mats fo our yacht and we love it! What quality! I ordered it in navy blue and would like a mat for the helm area of my fly bridge. I'm thinking it wuld need to be 6 foot by 2 foot. Is it possible to get a helm carpet exactly like the door mat we ordered? (The answer is YES!)

G.N., Florida

Just got the green rugs I ordered and, as usual, your stuff is great!

J.W., Massachusetts

The box with the various purchases arrived in good shape and my fourteen year old grandson is especially happy with the "boarding rug". He claims it's a real eye catcher coming down the pier.

E.M., Pennsylvania

Both the Cockpit Pillow and Premium Large Embroidered Mat are excellent quality. My order was processed promptly; I was notified when the order was received and again when it shipped. We are extremely pleased with the quality and excellent embroidery. We will be ordering from Welcome Aboard again and again.

A. D., Georgia

Great Job. It was just what I wanted. It was a good price and the service was excellent. I will order more when the time comes.

D. G., Kentucky

Great service and great products. Thank you!

V.E., Georgia

Buy a Mat!












Testimonials on Sleep Systems


Thank you so much. I couldn't believe how fast you made up our order and got them to us. They fit perfectly. Thank you so much. It's so great to be able to talk with "a person" and one that knows something about the product they sell.

S. D., Washington

"I have both a queen size and now a king size sleep system and I can't tell you how much I like them. Thinking they were all the same, I bought a sleep system from a major marine supply company. Man, was I ever disappointed. Their sheets have a continuous narrow strip of Velcro™ and their sheets are not stitched together. Although I feel guilty at times, I keep this sleep system for my guests.

My first mate and I use your sleep system in our master state room. You got it right. Sewn-in Velcro™ strips keep the sheets securely in place and having the top and bottom sheet sewn together keeps me from getting 'short sheeted'.

Just thought you should know.

N.H., "No Ka Oui", Virginia

I'm very proud to use and display your products. I've been in the gift business for 23 years and I have never seen any better fun and quality products on the market today!

T.N.

Buy a Sleep System! Back to Top


General Testimonials


Excellent product, Tool Back Pack, received in excellent condition, prompt service, Thank you very much.

L. P., Texas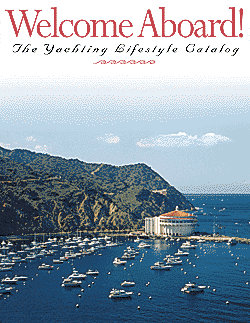 My wife was incredibly pleased with her Hand Carved/Decorated purse (Boat Purse) and I was very satisfied with my Personalized file tote bag (Travel File). The uniqueness of your products and professionalism exhibited are worthy of my endorsement and continued patronage. Thank you!
T.M. in MI

Everything from shoes, shorts, lighters, place mats, coffee mugs to those fabulous heavy pots 'n pans. We've got 'em!! Oh, and can't forget the hats!!! Thanks for keeping our selection wide and creative!

F.VN. in FL

Loved the clothing bag a lot! The brass anchor opener was even better than expected.

P.M. in CA

I just received my order. The glasses were just what I ordered and I was especially glad to receive them. I want to thank your company and all those involved for taking this matter and making it right. I am amazed that there's still a company, such as yours, that believes in integrity!

C.K. in FL

Have ordered items and found that your quality is quite good.

Thank, thank you, thank you, for the work you did to get my pennant to me on time.

S. G., California



Request a Catalog Back to Top

















Testimonials on Custom Yacht Portraits and Calling Cards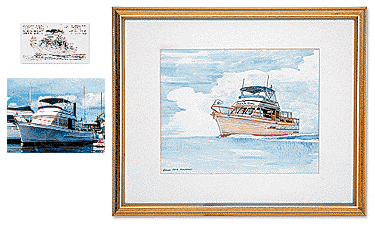 What Our Customers Say About their Portraits & Cards

I should have purchased the boat painting and my boat picture on the cups sooner. I love them! The picture is perfect, all directions for printing were followed to the tee! All boaters should have a sketch like this of their favorite pasttime! The cups are perfect for the boat ro home deck entertaining. Your staff was very helpful in my ordering process. I love your emails of products and sales!

F.H., Wisconsin

"I just received my portrait and it looks amazing. I can't wait to get it framed! Thank you for such attention to fine detail."

J. C. in Palatine, IL

"Dealing with Welcome Aboard, and their artist, Jack, on our Portrait of DIXIE RIG was very professional and exact!. The fact that Jack was attentive to my needs and responded quickly to the changes in the color and rigging was great! We have made a point to recommend Welcome Aboard to our Association of Professional Sportfishing Captains for future portraits and those neat little 'cruising cards'.

Captain S. P., DIXIE RIG, Isle of Palms, SC

"What really blew me away was the speed in which WELCOME ABOARD and their professional Artist, Jack finished the Portrait of "INDEPENDENCE" The fact that we were a little late in ordering was taken in stride. 'No problem, we'll have this done in time for your christening party' And, they did! The finished portrait was razor-sharp in the fine details and the order of CRUISING CARDS was the crowning touch!"

D. S., Captain, M/Y INDEPENDENCE, Philadelphia, PA

" We didn't have time to send photos of 'QUIET TIME' to have our new Portrait commissioned, so I e-mailed WELCOME ABOARD several attachments of the views we wanted. On top of that, we insisted on having Mount Rainier in the background, so another photo was supplied. Know what?, the artist, Jack, pulled it off precisely as we imagined! We are very proud of our new portrait and the CRUISING CARDS are very classy for handing out to new friends we meet, they are the perfect way to stay in contact"

P. & G. P., on board "QUIET TIME", Seattle, WA

" Being in Alaska, we had our doubts about WELCOME BOARD'S ability to serve our needs. We were so wrong! The colorful sketch and CRUISING CARDS arrived on time for our charter season and were perfect in the details. We made a mistake in the copy but that was taken care of during the proofing phase of the ordering process. The little CRUISING CARDS are our best saleswomen"

I. & S. B., S / V "CONFESSION" St. Petersburg, Alaska

Buy a Yacht Portrait! Back to Top







Testimonials on Sport-a-Seats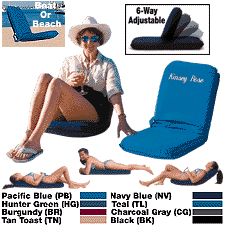 We went to a National Boat Supply chain to purchase what we thought was the Sport-a-Seat. When we got home and opened the product we realized the seats were not what we thought. These were a much cheaper version of the original Sport-a-Seat and not at all acceptable. The color of the material was different and not close to the quality of the Sunbrella™ material. You could feel the ratchet and I knew it would only be a matter of time before it pushed through the material. We immediately returned these imitation seats. They were not worth the price we were charged. We have since purchased the true (original) Sport-a-Seats at Welcome Aboard! and are very happy – so are our tushies!
S.F. in CA

The boat loungers are perfect and very sturdy. We tried two to begin with and liked them so much we ordered two more. We sent two more to our daughter in CO and she uses them for camping!

F.C. in FL

This item - the sport-a-seat boat lounger - is THE best chair I ever bought for our boat(s). We initially bought two about four years ago when we had a trawler and there was no way you could sit on the front of the boat without lugging something up there and unfolding it. This seat is oh-so-easy to stow and carry anywhere on the boat, adjusts to five different seating positions EASILY, is extremely comfortable AND it lays flat for lying down (back or stomach) when you feel like it! ALL THAT and, as I had a chance to experience when a combination of wind and the seat being left upright, teetering on the edge of our new power catamaran, sent the lounger into the water - IT FLOATS. This eliminated the need for diving - head first - into the cold morning waters (my first reaction) and allowed for a more graceful rescue via dinghy. As you can tell, I really love these seats - we now have four. Thanks for a great product!

L.W. in NY


Buy a Sport-a-Seat! Back to Top Back to Top